Conversion Content for eCommerce
Conversion Content is the process of identifying key customer objections and proactively addressing these objections on the product detail page in order to turn a higher percentage of visitorsto the page into customers. Higher conversion rates will help optimize the return on ad spend (ROAS) for Search Engine Marketing (SEM) campaigns. It's also great for driving organic traffic to the site and making all traffic to the product page more profitable. When a well performing site registers just two transactions for every hundred visitors, there is an enormous opportunity to win one more order by using Conversion Content. Ask any sales rep how they sell and they'll tell you that they start with features and benefits just like every eCommerce product presentation, but then they probe the customer for potential objections. If they uncover objections, then they will work to overcome those objections before closing. Most eCommerce sites present the product and hope there are no objections, but Conversion Content deploys direct marketing techniques to raise and overcome objections to drive higher sales.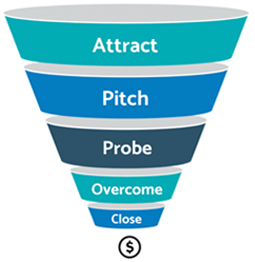 Sales Representative Model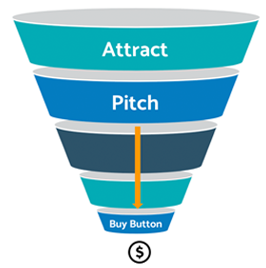 Traditional eCommerce Model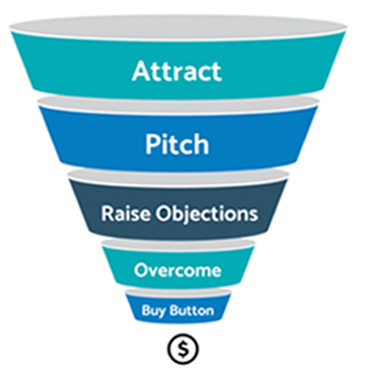 "A Traditional Sales Rep model involves probing for objections, but eCommerce sites typically skip this step and risk a lower buy rate. Conversion content proactively raises key objections and then overcomes those objections in an effort to turn more visitors into customers."
Proactively Raise Objections
Manufacturer supplied content would never proactively identify apossible customer objection.Instead, eZdia leverages productreviews to identify common product objections from across the web.
Objection Context
eZdia ingests product reviews from across the web and tags them in orderto identify the most common productobjections. Then the reviews are quantified, organized by topic, and presented in a balanced fashion with the positive comments about the same objection topic.
Overcome & Close
eZdia uses positive reviews and other compelling data to overcome the objections. Conversion content is written using a journalistic style guide with an emphasis on leveraging the credibility.
Conversion Content typically sits after the features and benefits and before any specifications or product reviews.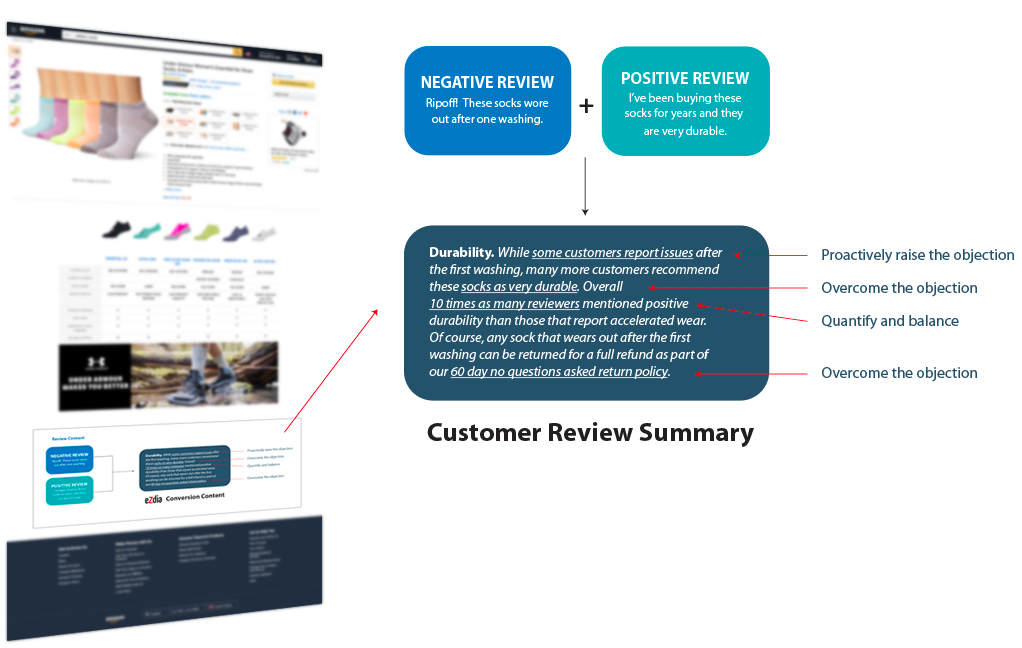 Conversion Content
Delivers one to three new paragraphs of original content where each paragraph addresses a single objection.
Objection Identification
eZdia tags reviews by topicand provides a quantitative analysis of the leading customer concerns.
Per-Paragraph Pricing
eZdia's automation tools andoffshore research teams, combinedwith in-country copywriting, allow for inexpensive per paragraph pricing.
Test Design
eZdia will design an A/Bsplit test to isolate the benefitof Conversion Content againsta control group.
Proof-of-Concept
eZdia offers an inexpensive 60-day proof-of-concept campaign designed to measure the return on content spend (ROCS) before scalingthe strategy.