Amazon Product Listing Services
8 years of partnership with amazon
12 countries and 6 languages supported
8 million product pages reviewed for quality
over 15k product descriptions written
Understanding Amazon's A10 Algorithm to be on Top Rankings:
What is the Amazon A10 Algorithm?
Amazon has its own proprietary search algorithm that determines what products rise to the top of search results.
This new version of Amazon's search algorithm puts more emphasis on the shopper and how they search. Thus, the words on the page and their ability to connect with shoppers is more important than ever.
Factors that affect top rankings on amazon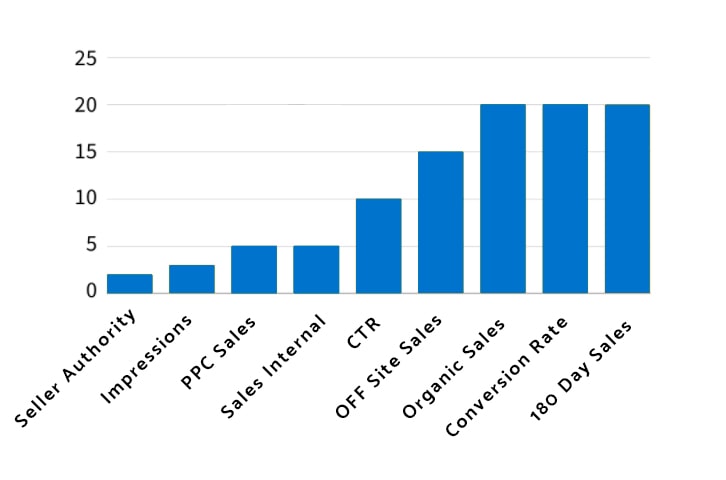 The value of Professional Product Copy?
Listings on Amazon are different from products uploaded on other eCommerce platforms. Every product listing requires entering precise product-specific information on pre-defined templates. Professional content requires product ID to SKU's, titles, bullets, product description written to specific keywords, backend or hidden keywords, and category-specific information. Product copy should be complete, compelling and precisely target the buyer and how they shop.
Boost Your Sales With eZdia's Professional Amazon Services
Amazon A+ Page Creation
Amazon A+ pages are those that employ a variety of media and content depth that is designed to best show off the product. Enhanced images, text and the opportunity to tell a unique brand story all contribute to higher visibility, conversion rates and sales.
Scroll the image to see full page.
Craft Compelling Copy Increases Conversions.
Great copywriting is the key to selling more by eCommerce. The techniques that better target, engage and meet the customer's expectations for a purchase creates a digital sales rep. Scroll the image to see full page.
Scroll the image to see full page.
Optimize Product Listings With High-Value Keywords
Amazon users are extremely purchase-focused. They enter the search term for what they want and check out. Since they aren't there to search randomly, it is essential that the copy speaks the language that users are searching for.

Product Image Enhancement.
We create high-quality visual content from existing digital assets which will help boost engagement, establish credibility, and most importantly, improve conversion rates. Online shoppers will depend on the information you provide – both in words and in images – to help them decide whether or not to place the order.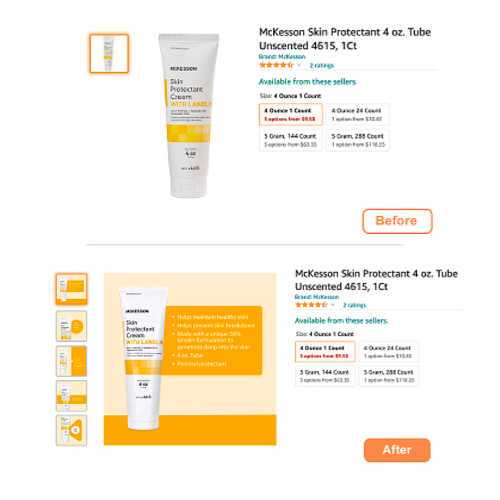 Advertising Optimization
We help brands and sellers maximize their presence on the largest eCommerce platforms in the world by promoting products to interested shoppers. We help you plan, optimize and grow Amazon results by implementing effective Sponsored Brand Ads campaigns (formerly called Headline Search Ads) and Sponsored Product Ads with the goal of improved rankings, higher conversion rates and more sales.
Data Driven
Listings
We use our in-house platform to assess the content health score by benchmarking it on various parameters. This helps identify listing gaps to prioritize the products with the best potential to improve..
Maximize Your Keyword Coverage
We craft the product content that carries the most relevant product keywords that aligns with shopper behavior.
Boost Your
Rankings
We use impeccable, sales-driven language that drives conversions. The listings that we produce include complete competitor analysis to understand how your product page stacks up to your competitors.
Here's What We Can Do for You
After successfully working with many of the top eCommerce companies, we have built an elite system that creates, optimizes and executes your product listings on Amazon with a click of a button. Our specialized Amazon copywriters dive deep into the Amazon seller listings by doing extensive research on competitors, market, product and keywords to understand the target audience better. The rest is pure high-quality copywriting, relevant product keywords that drive your conversion rates and increase your organic rankings and sales on the Amazon marketplace.
Welcome Call
At first, we believe in providing a world-class customer experience and maintaining a fruitful relationship with our customers. Once you connect with us, we will have a quick call with you to understand all details regarding your business and will try to get an overview of your requirements and expectations and solve any queries that you may have.
SEO for Amazon
Understanding the Amazon algorithms and learning the way SEO works on Amazon is a critical step to prepare the best product listing for you. Using our nearly a decade of experience with Amazon, we will devise a game plan to prepare the content, which is in-line with Amazon's SEO algorithms. Here we mention keywords, rich product titles and bullet points and the scope of keyword coverage.
Keyword Research to Identify Relevant Search Terms
Once we identify the keywords, we use multiple approaches to create a list of those compiled keywords. From looking at Amazon's internal auto-suggestion queries to identify every competitor listing individually and then using our powerful research tool, we make sure that no stone is unturned.
Identifying Key Product Titles and Features
Armed with the above-mentioned details, our experienced copywriters will get to work. Starting with the product title, we will craft your key product features, ensuring throughout the process that they are highly optimized for conversions with the relevant keywords inserted in the copy. The copy is in line with the category-specific product guidelines as published by amazon.
Copy That Answers Customer Queries
A general problem with most of the low sales issues are due to not providing detailed, accurate product information. As part of our Amazon optimization services, we will write an information-rich product description for each listing that will answer all your shopper's questions and eventually increase your orders.
Building Amazon A+ Content
If you are registered with Amazon Brand Registry, we will be happy to work with you on A+ content. In addition to high-quality descriptive text, we will optimize your images by giving you expert feedback and suggestions.
Backend Search Terms
We don't stop after preparing the listing text. Instead, we go the extra mile and provide you with all relevant backend search terms for your products, which is a factor that many sellers get wrong. Our copywriters are well-trained in the process and ensure that you don't fall into this category. Our systematic and strategic approach ensures that your listings are targeted for conversions, even on the backend!
Approvals
Once our expert writers complete the copy, we pass it on to the approval stage by sharing the copy with your team so that we aren't missing anything before the listing goes live on Amazon. Our team will be in touch with you, updating you on the status of your listings through emails, client meetings and phone calls.
eZdia was a very professional company. They did high-quality work in a clear timely manner. We utilized their skills to assist us with Amazon. We intend to use them again in the near future as the need arises. I would highly recommend
Looking for Similar Services on Walmart?