Amazon Product Listing & Optimization Services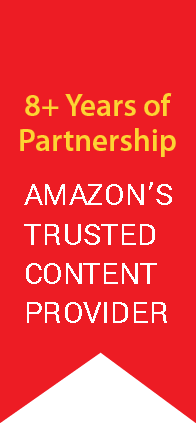 Years of Partnership with Amazon
Product Descriptions Written
The value of Professional Product Copy?
Listings on Amazon are different from products uploaded on other eCommerce platforms. Every product listing requires entering precise product-specific information on pre-defined templates. Professional content requires product ID to SKU's, titles, bullets, product description written to specific keywords, backend or hidden keywords, and category-specific information. Product copy should be complete, compelling and precisely target the buyer and how they shop.
Boost Your Sales With eZdia's Professional Amazon Services
Crafting SEO Optimized Copy
High Traffic & Conversion Driven Keywords
Amazon Store Front Creation
Here's What We Can Do for You
After successfully working with many of the top eCommerce companies, we have built an elite system that creates, optimizes and executes your product listings on Amazon with a click of a button. Our specialized Amazon copywriters dive deep into the Amazon seller listings by doing extensive research on competitors, market, product and keywords to understand the target audience better. The rest is pure high-quality copywriting, relevant product keywords that drive your conversion rates and increase your organic rankings and sales on the Amazon marketplace.
Data Driven
Listings
We use our in-house platform to assess the content health score by benchmarking it on various parameters. This helps identify listing gaps to prioritize the products with the best potential to improve..
Maximize Your Keyword Coverage
We craft the product content that carries the most relevant product keywords that aligns with shopper behavior.
Boost Your
Rankings
We use impeccable, sales-driven language that drives conversions. The listings that we produce include complete competitor analysis to understand how your product page stacks up to your competitors.
Amazon A+ pages are those that employ a variety of media and content depth that is designed to best show off the product. Enhanced images, text, and the opportunity to tell a unique brand story all contribute to higher visibility, conversion rates, and sales.
Scroll the image to see the full sample page.
Craft Compelling Copy Increases Conversions.
Great copywriting is the key to selling more by eCommerce. The techniques that better target, engage and meet the customer's expectations for a purchase create a digital sales rep. 
Scroll the image to see the full sample page.
Optimize Product Listings With High-Value Keywords
Amazon users are extremely purchase-focused. They enter the search term for what they want and check out. Since they aren't there to search randomly, it is essential that the copy speaks the language that users are searching for.

Product Image Enhancement.
We create high-quality visual content from existing digital assets which will help boost engagement, establish credibility, and most importantly, improve conversion rates. Online shoppers will depend on the information you provide – both in words and in images – to help them decide whether or not to place the order.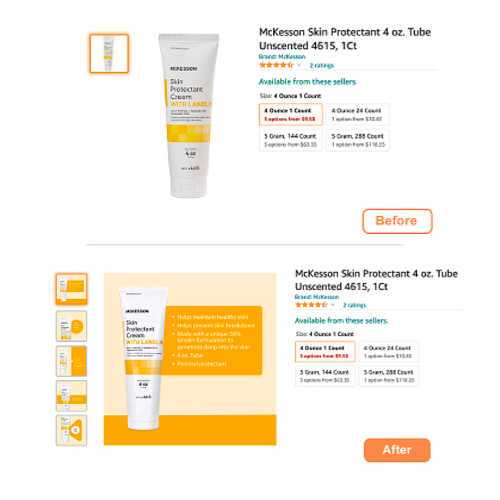 We help brands and sellers maximize their presence on the largest eCommerce platforms in the world by promoting products to interested shoppers. We help you plan, optimize and grow Amazon results by implementing effective Sponsored Brand Ads campaigns (formerly called Headline Search Ads) and Sponsored Product Ads with the goal of improved rankings, higher conversion rates and more sales.
eZdia was a very professional company. They did high-quality work in a clear timely manner. We utilized their skills to assist us with Amazon. We intend to use them again in the near future as the need arises. I would highly recommend